Al Traynor Reviews
RadioIndy Review of your "Favorite Originals" CD
"Favorite Originals" by "Big" Al Traynor is a collection of diverse country songs selected from the many
works of this musical veteran. Big Al has a timeless voice all his own and his personality is certainly the catalyst for his sound. From boogie woogie to spoken word to patriotic pride, Big Al delivers. The arrangements behind him are all complementary, with familiar sounds presented in a fresh way. The recording nicely represents all aspects of the sound equally, and each song is well polished. If you like a little boogie woogie, check out the opener "Barnyard Boogie". Its quirky lyrics and Surf/Doo-Wop flair satisfies foot tapping adults as well as fun hungry kids. "The Old D 18" is a touching little spoken word story based on a musicians love affair with instruments. Look for a great intimacy in the vocals on this one. "Funny Thing About Pride" wraps things up with a "down home" arrangement and another fun story. If you enjoy spoken word and country music, you'll enjoy this CD.
The review above was done by Greg and Manny of RadioIndy.com
---
RadioIndy Review of your "Country Recitations" CD
Allan Traynor's "Country Recitations" is a heart-wrenching assembly of spoken word tunes. Every track on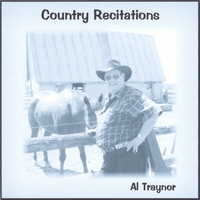 this CD is crafted with lyrical precision and performed with passion and fervor. Tackling patriotic themes, memories of youth, and life experiences, these tales are brought to life by Allan's emotional story-telling of mostly real-life experiences. "The Letter" and "Why Soldiers Cry" tell sad tales of tragic loss and fallen heroes, yet they bring healing and closure through words of sympathy, valor, and profound courage. What's more, each track of "Country Recitations" is backed by lovely acoustic guitars and graceful stringed instruments. Finished with solid production, this CD is one that fans of spoken word and country music should not go without!
The review above was done by Greg and Manny of RadioIndy.com
A Message from Jerry Mac (Owner of The Country Music Planet)
I am in total agreement with Greg & Manny that Al Traynor's "Country Recitations" CD is very heart wrenching. But nothing less can ever be expected from "Big" Al Traynor. All his CDs are filled with good songs that are well written, and produced superbly. My cowboy hat is tiped once again to "Big" Al Traynor, a fantastic country music entertainer.
Jerry Mac - www.countrymusicplanet.com
---
National Traditional Country Music Association, Inc. TRADITION(Magazine)

January-February 2008

Al Traynor
"All Mine"
Some of our best country music is coming out of Canada these days, certainly some of the best original music, yet. My belief has always been you could have the best voice in the business, but without a hit song, you'll be just that, the best voice in the business without a hit song.Al Traynor wrote all the songs on this CD, and some of them, in my opinion, could very well be hits if recorded by the right voice.
Don't have any information on the musicians on this project, but they are all good. I like the mix, it gives me a chance to hear the words and get to know what the stories are all about without being drowned out by loud drums or electric bass guitars.
Nearly all of Al's songs have a story, and that's what country music is really all about. I'd like to extend Al an invitation to be with us in LeMars in 2008 and get him hooked up with some good voices that are looking for good songs. That's sure to happen.
I like the way Al used a fiddle in his presentations on this CD, that is a sure way to keep it country, and that happens all the way through his project. Some of the melody lines sounds like another song from way long ago, but that's all right, I like them all.
Come be with us Al, Aug.25-31 2008, LeMars Iowa.
The contents of this web site may not be reproduced without prior written consent.
AlTraynor.com -- All Rights Reserved
Web site designed by The Country Music Planet Web Design Division.